23 Mar 2019
Singapore's Largest Flying Machine Competition Returns for the 11th Year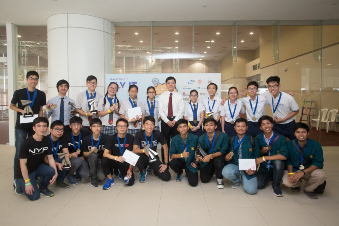 SINGAPORE, 23 MARCH 2019 – The annual Singapore Amazing Flying Machine Competition (SAFMC) has successfully concluded its eleventh run. The SAFMC Award Ceremony held earlier today was graced by Senior Minister of State for Defence Mr Heng Chee How.
Jointly organised by DSO National Laboratories and Science Centre Singapore, SAFMC is the largest flying machine competition in Singapore that attracts participants from across the region.
The growing participation stands testament to the broadening interest in the field of flight science. This year's competition saw a 15 percent increase in participants as compared to 2018, attracting more than 490 registered teams comprising 1,788 participants from five countries, namely Hong Kong, Indonesia, Malaysia, Singapore and Thailand.
This year, to cater to developments in flight science, SAFMC has introduced a new First-Person View (FPV) Flight (Micro) challenge. The FPV Flight (Micro) Challenge was introduced to cater to the steady increase of FPV technology used to fly drones. This new subcategory is part of the Radio Control Flight category. The competition also includes categories such asPaper Planes, Unpowered Gliders, Semi-Autonomous/Autonomous, and the highly anticipated Unconventional category.
Since 2009, SAFMC has served as a stepping stone for the next generation of innovators. SAFMC is a platform for youths to discover their potential and launch their careers in flight science. Speaking at the Award Ceremony, Mr Heng said that SAFMC is "more than just a competition", but is "a learning journey where each and every participant is exposed to hands-on learning as they transform their ideas into reality".
Associate Professor Lim Tit Meng, Chief Executive of Science Centre Singapore added, "Participants get an opportunity to apply scientific principles learnt as they work on their projects of constructing the flying machines. In the process, they also develop core skills such as problem-solving, critical thinking and communication, critical for future jobs. SAFMC offers a conducive environment which is challenging and competitive, yet fun and engaging for young minds to pursue their interest in STEM subjects."
If you seek further information about SAFMC 2019, please contact the following representatives:
Edwin Yong Corporate Communications
DSO National Laboratories

6450 4162

Valerie Wong Marketing & Communications
Science Centre Singapore

6425 2372
DSO National Laboratories (DSO) is Singapore's national defence research and development organisation. It undertakes indigenous development of advanced defence and weapon systems that provide the Singapore Armed Forces (SAF) with the superior technological edge in the battlefield. While its primary focus is to support the SAF, DSO also extends its defence R&D capabilities to support homeland security.
With more than 1,500 technical staff, DSO investigates emerging technologies, matures promising ones and integrates them into innovative system concepts to meet Singapore's defence and security needs. For more information, please visit www.dso.org.sg.