17 Jun 2020
Clinical Trials For Covid-19 Antibody To Begin In Upcoming Months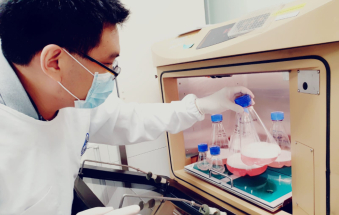 SINGAPORE 17 June 2020 - DSO National Laboratories (DSO) has discovered five antibodies that demonstrate neutralisation against COVID-19. Over the past three months, DSO scientists have been testing the five antibodies in the laboratory, and results show that they are all potent in blocking infection and effective against key mutations that have emerged in the virus during the pandemic.
All five antibodies were isolated from blood samples of recovered COVID-19 patients. This assures a higher degree of patient safety and efficacy, both critical factors for upcoming clinical trials.
Dr Conrad Chan, Principal Research Scientist and Laboratory Director (Applied Molecular Technology) from DSO explained, "Administration of an antibody obtained from a recovered patient transfers that person's immunity to the recipient, enabling any patient to better fight the infection and recover faster. As antibodies remain in the system for close to a month, it can also be administered to prevent infection."
Since March this year, DSO has screened hundreds of thousands of B cells1, and isolated the first two antibodies for testing within a month of receiving blood samples from the National Centre for Infectious Diseases and Singapore General Hospital. By harnessing DSO's proprietary screening technique, the B cells are screened simultaneously with live virus, and antibodies with effective virus neutralising properties are quickly identified. This technique, developed in collaboration with the National University of Singapore Life Sciences Institute over the last five years, is part of DSO's "Antibodies on Demand" strategy to counteract novel infectious disease outbreaks. This technique reduces both the time and manpower required as compared to typical cell-screening methods.
With the promising discovery, DSO, as part of a Whole-of-Government collaborative effort involving agencies such as the Ministry of Defence, Ministry of Health and the Economic Development Board, has brought together a Singapore-based consortium comprising government agencies, research institutes and biomedical companies to quickly advance the research towards clinical trials. Human trials for the lead antibody, AOD01, are planned to commence in the upcoming months, pending approval from the Health Sciences Authority. Manufacturing capabilities have also been provisioned to scale up therapeutic antibody treatment for COVID-19 patients upon the successful completion of clinical trials.
Dr Brendon Hanson, Principal Research Scientist and Project Lead said, "When clinical trials are completed and successful, we hope to be able to quickly translate the positive results from the laboratory into a viable effective treatment for COVID-19."
Chief Executive Officer of DSO, Mr Cheong Chee Hoo added, "While still in its experimental phase, this discovery is an important milestone in Singapore's fight against and managing life with COVID-19 until a vaccine is available. With an effective treatment, people will be more assured as they can be treated immediately and can expect to make a faster recovery. This prevents our healthcare system from being overwhelmed, and normalises our daily routine as we continue to live and interact as a community."
1 B cells – Antibodies are produced by the B cells of the human immune system in response to infection. Both antibodies and B cells can be found circulating in our blood.
For media queries and clarifications, please contact:
DSO National Laboratories
Kenny Wong
Head, Corporate Communications
Tel: +65 9850 5224
Email: [email protected].sg
DSO National Laboratories (DSO) is Singapore's national defence research and development organisation. It undertakes indigenous development of advanced defence and weapon systems that provide the Singapore Armed Forces (SAF) with the superior technological edge in the battlefield. While its primary focus is to support the SAF, DSO also extends its defence R&D capabilities to support homeland security.
With more than 1,500 technical staff, DSO investigates emerging technologies, matures promising ones and integrates them into innovative system concepts to meet Singapore's defence and security needs. For more information, please visit www.dso.org.sg.