18 Mar 2017
Creative Flying Machines Thrill and Excite at Largest Edition of the Singapore Amazing Flying Machine Competition Yet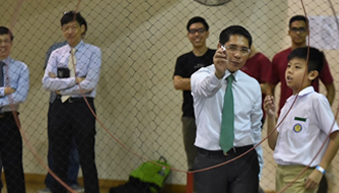 SINGAPORE, 18 March 2017 – The ninth edition of the Singapore Amazing Flying Machine Competition (SAFMC) concluded this afternoon, with 424 teams across five categories competing to come out tops at Singapore's largest flying machine competition. 2017's competition saw the largest number of participating teams since the competition began in 2009, as well as the largest number of international teams at 52. This year's closing and awards ceremony was graced by Dr. Mohamad Maliki Bin Osman, Senior Minister of State, Ministry of Defence & Ministry of Foreign Affairs & Mayor, South East District.


A platform for participants of all ages to express their passion for flight science, SAFMC is open to students from Primary to University level, as well as members of the public. Spanning five categories – Paper Planes, Unpowered Glider, Radio Control Flight, Semi-Autonomous/Autonomous and Open – a large number of creative and exciting entries are received each year, allowing aviation enthusiasts to hone their passion for flight regardless of their knowledge level. Details on each category's challenge information, eligibility criteria and prizes can be found in Annex A.


Over the years, the SAFMC has continued to provide participants with a non-conventional learning platform, allowing students to gain greater knowledge in the theories of flight and aerodynamics. The competition also enables students to hone their academic capabilities beyond a classroom setting, allowing them to broaden their horizons and increase their breadth of knowledge in Science, Technology, Engineering and Mathematics (STEM). In his speech, Dr Maliki highlighted that Singapore, as a technological hub, presented many opportunities for Singapore to make a real difference to people's lives, especially in the fields of STEM, and that in many cases, Singaporeans were world-leading at bringing nascent technologies to application in those areas. He said, "The amazing machines that I have seen today, that are developed and designed by many of you, reinforce my confidence that there are many innovative young minds in Singapore who will guide such nascent and experimental technologies to reality."


Participants are required to fulfil both the presentation and challenge components of the competition, both of which contribute to their final judging score. The collective scores across all judging criteria (which vary depending on category) are then used to determine the winners of each category's Championship Award – the most prestigious award for the competition, reflecting the winners' overall excellence and learning experience during the course of the competition. More information on the judging criteria across the different categories can be found in Annex B.


Keeping things simple paid off for Category D's semi-autonomous Championship Award winner, Skyhawk. The three person team from Nanyang Polytechnic created a simple and light first person view drone which also clinched the Best Platform Award – an award that is given to the team that shows the best design and quality of their flying machine.


Over the years, the competition has seen a number of participants take part in successive years, with a number receiving success multiple times in their endeavours. Category E's Championship Award winner, Le Casier from Singapore University of Technology and Design (SUTD), is no stranger to the competition, with two team members – Goh Tze Huan and Ang Wei Jun – having clinched the award twice in successive years. The opportunity to challenge themselves and create new flying machines was what had them return to the competition, allowing them to test their capabilities once again.


The full list of championship award winners from this year are:
• Category A (Paper Planes, Student Class) – Mighty Star, Yu Neng Primary School
• Category A (Paper Planes, Open Class) – Sharp Shooters, St. Gabriel's Secondary School
• Category B (Unpowered Glider) – Bullseye, Edgefield Secondary School
• Category C (Radio Control Flight) – 4 Awesome People, Dunman High School
• Category D (Semi-Autonomous) – Skyhawk, Nanyang Polytechnic
• Category D (Autonomous) – Ulion, National University of Singapore
• Category E (Unconventional) – Le Casier, Singapore University of Technology and Design


SAFMC also provides an opportunity for parents to bond with their children, as they explore the theories of aerodynamics together through their participation. Super Team, a father-and-son team comprising of Sufian Gosal and Justin Goh, participated in the Open Class segment of Category A, working together to create their own paper plane for the competition. Justin, at age seven, is also among the youngest participants in this year's competition.


A/Prof Lim Tit Meng, Chief Executive, Science Centre Singapore said, "The latest in technology with aviation expertise continues to excite people. Space exploration will become increasingly feasible, and the age of the affordable supersonic flight for the masses could be for real. These advancements open up many new career avenues for the youth. The entries that we receive for SAFMC each year continue to get better – an indication of the endless possibilities that flight science offers. SAFMC is an excellent platform to get students and members of the public interested in aviation, a field that will continue to become more exciting with advancement in technology."


Mr Cheong Chee Hoo, CEO, DSO National Laboratories, added, "Over the years, SAFMC has seen a rise in participation rates, and this is a testament to the competition's ability to engage and inspire students in science and technology. As a R&D organisation, DSO is committed to nurturing more young minds and enriching their learning journey."


####
About Singapore Amazing Flying Competition
The Singapore Amazing Flying Machine Competition (SAFMC) is Singapore's largest flying machine competition, jointly organised by DSO National Laboratories and Science Centre Singapore, and supported by the Ministry of Defence.


Since 2009, this nation-wide competition has attracted over 6,000 aviation enthusiasts. It will once again challenge young bright minds to come up with innovative creations like no other.


SAFMC is part of the DSO Amazing Series of Competitions, which aims to inspire and nurture youths in Science and Technology. Open to all students and public, this annual competition will serve as an expedient platform to those want to get one step closer to their aviation dreams.


About Science Centre Singapore
Science Centre Singapore, a non-formal educational institution and leading regional Science Centre, along with its group of attractions, brings out the wonders of science, technology, engineering and mathematics through its unique blend of exhibitions, educational programmes and events. A custodian of creativity and innovation, Science Centre Singapore has captured the evolution of scientific developments for nearly four decades.


The Centre and its partners have played a pivotal role in transforming the way students and the public interact with and learn about science, technology, engineering and mathematics. Since 1977, the Centre has welcomed over 30 million visitors and inspired them with more than 1,000 exhibits spread across 14 exhibition galleries and outdoor exhibition spaces.


The Centre's group of attractions include Omni-Theatre, Butterflies Up-Close, Snow City and KidsSTOP™. The Omni-Theatre is an immersive dual-technology edutainment destination fitted with Southeast Asia's largest seamless dome screen and featuring the latest and brightest 8k digital fulldome system in the world. Snow City is Singapore's only permanent indoor snow centre offering an Arctic inspired experience at Singapore's first ice gallery and snow chamber. KidsSTOP™ - Where every child gets to Imagine, Experience, Discover and Dream - is Singapore's first children's science centre offering an enriching experience through purposeful play for children aged 18 months to 8 years.


For more information, please visit www.science.edu.sg.


About DSO National Laboratories
DSO National Laboratories (DSO) is Singapore's national defence research and development organisation. It undertakes indigenous development of advanced defence and weapon systems that provide the Singapore Armed Forces (SAF) with the superior technological edge in the battlefield. While its primary focus is to support the SAF, DSO also extends its defence R&D capabilities to support homeland security.
With more than 1,300 research scientists and engineers, DSO investigates emerging technologies, matures promising ones and integrates them into innovative system concepts to meet Singapore's defence and security needs.

For more information, please visit www.dso.org.sg.
For media queries, please contact:
Gretchen Lee

Golin

6551 5422 / 9125 9681

Jyotika Thukral

Science Centre Singapore

6425 2541