29 Sep 2017
Modified Musical Instruments Hype the Graduation Ceremony For Children with Special Needs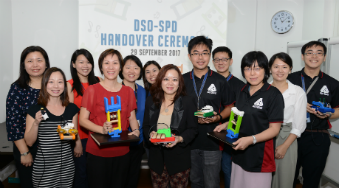 Singapore, 29 September 2017 – Children with mobility impairments may not always have the right musical instruments available to them, but it certainly does not stop them from performing in a musical concert. In a unique partnership between SPD (formerly known as Society for the Physically Disabled) and Mod Squad, a Corporate Social Responsibility (CSR) movement by a group of engineers from DSO National Laboratories, musical instruments have been specially modified so that children from SPD's Building Bridges EIPIC Centre can perform at their year-end graduation ceremony.


Led by Mr Yee Qing Xiang, a Defence Research Engineer at DSO, the team of 10 applied their engineering expertise to modify more than 20 musical instruments ranging from xylophones, cymbals, tambourines to simple percussions like bells. Drawing experience from their previous Hack-a-Toy initiative where toys were modified for children with special needs, the engineers are better acquainted with their physical constrains, and have implemented more advanced assistive devices to help improve their motor coordination.


The team even designed their own printed circuit boards, used open-source electronic components and self-written programs to ensure that the children can use the various instruments with ease. Taking the xylophone which has three notes as an example, the modification involves intricate programming, soldering of wires and installation of motors to synchronise the rhythm through the use of a wired wristwatch, making overall coordination much easier.


Mr Yee, Mod Squad Team leader, shared on their modification journey, "As engineers, it is really tempting to quickly dive in and use technology to solve problems, but for this project, we needed to take a step back to fully understand the unique needs and problems before coming up with a solution. It is unfamiliar territory to us and this has been a valuable experience as we harnessed the team's diverse expertise, such as electrical circuit designs, mechanical design and 3D printing."
This is the first time SPD's Early Intervention Programme for Infant and Children (EIPIC) will be incorporating music performance in their graduation ceremony on 23 November. These specially customised instruments will enable the children to perform and help to further the children's interest in music.


Ms Becky Hoo, SPD's Director of Children Services, said, "We are deeply heartened with the support of DSO in enhancing playtime for our children. This collaboration has brought tremendous joy and for the first time, allowed the kids to be fully immersed in playing music. We look forward to seeing more of such implementations of Assistive Technology through future partnership with these engineers."


-End-


MEDIA CONTACTS
Name

Mr Kenny Wong

Head

Corporate Communications

Mr Edwin Yong

Assistant Manager

Corporate Communications

Contact
6450 4163 / 9850 5224
6450 4162 / 9116 6850
Email

[email protected]

[email protected]
About DSO National Laboratories
DSO National Laboratories (DSO) is Singapore's national defence research and development organisation. It undertakes indigenous development of advanced defence and weapon systems that provide the Singapore Armed Forces (SAF) with the superior technological edge in the battlefield. While its primary focus is to support the SAF, DSO also extends its defence R&D capabilities to support homeland security.
With more than 1,500 technical staff, DSO investigates emerging technologies, matures promising ones and integrates them into innovative system concepts to meet Singapore's defence and security needs. For more information, please visit www.dso.org.sg


About SPD
SPD is a voluntary welfare organisation that supports people with disabilities by promoting their interest, welfare and advancement so as to develop their potential to the fullest. Through programmes and services that encompass therapy, vocational skills training, assistive technology, early intervention, day care, and employment, educational and social support, we seek to enable people with disabilities to be self-reliant and independent. For more information, please visit www.spd.org.sg.