18 Jul 2020
Singapore's First Portable Direct PCR-based Test Kit For Covid-19 Developed for Faster Diagnosis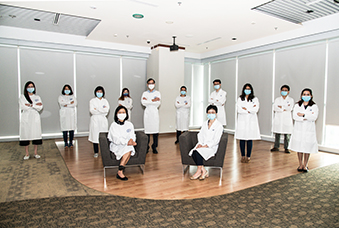 Synergising local research capabilities to achieve breakthrough test kits to support nationwide COVID-19 testing effort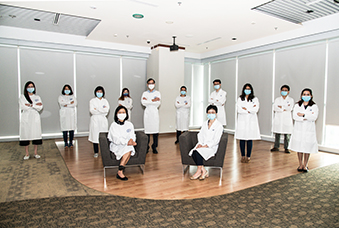 The DSO (left) and A*STAR (right) team of scientists
SINGAPORE, 18 July 2020 – Back in March 2020, DSO National Laboratories (DSO) successfully developed its Direct-Polymerase Chain Reaction (PCR) technology with the formulation of a new molecular-based assay to detect the presence of COVID-19 virus. Harnessing this capability, DSO partnered A*STAR to jointly develop RESOLUTE, Singapore's first Direct -PCR COVID-19 test kit that does not require sample processing and can be completed in an hour, compared to a conventional PCR test which takes 2.5 hours or longer.

PCR tests are gold-standard diagnostics tools conducted in the laboratory where specialised manpower and equipment are required for sample processing before PCR testing. With DSO's proprietary Direct-PCR technology, RESOLUTE allows the sample from the patients' nasopharyngeal swabs to be directly tested without the need for RNA extraction*, prior to PCR testing. This reduces dependence on RNA extraction reagents.

This direct-PCR test kit received HSA's provisional authorisation in April. The Diagnostics Development (DxD) Hub, a national initiative led by A*STAR's commercialisation arm A*ccelerate, has been working closely with a local biotech company in the production and deployment.

DSO and A*STAR have since worked on an enhanced kit, RESOLUTE 2.0 which has been further simplified for usage. RESOLUTE 2.0 consists of a premixed solution by multiplexing the RESOLUTE series of direct PCR assays, to test for 2 viral and 1 human target in one single test. The RESOLUTE series has been distributed to multiple testing laboratories.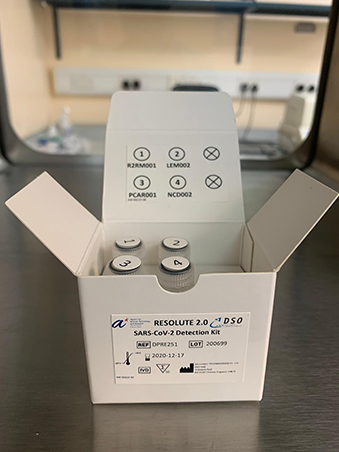 Inside a RESOLUTE test kit
Mr Frederick Chew, CEO of A*STAR said, "During this critical period, RESOLUTE is a vital addition to Singapore's testing capacity. Diagnostics testing has been a key pillar of Singapore's COVID-19 response to date. The DxD Hub crew has been working with a stellar DSO team to rapidly turnaround a product for deployment, reducing our national testing dependence on RNA extraction reagents. We will continue working closely together with DSO and the rest of the research ecosystem to develop dual-use technologies to benefit Singapore and strengthen our resilience."

This collaboration is part of a strategic partnership between DSO National Laboratories and A*STAR that was inked earlier this year to tighten the defence-civilian research nexus. The scope of cooperation involves R&D across the biomedical and physical sciences, technical consultancy, staff exchanges and cross-attachments. This is also the first time both organisations have developed a product together to address public health needs. The intent here is also for public sector IP to be licenced to local companies for commercial translation. DSO and A*STAR are also currently working together, along with other industry partners, to develop therapeutic antibody treatment for COVID-19 patients.

CEO of DSO National Laboratories, Mr Cheong Chee Hoo added, "This is one of the strategic capabilities that DSO has been building up to deal with novel outbreaks. It is timely that we are able to work closely with A*STAR and industry partners to quickly develop and productise this capability into an effective test kit in less than 3 months to strengthen Singapore's fight against COVID-19."
* RNA extraction – RNA is short for ribonucleic acid. one of the three major biological macromolecules (along with DNA and proteins) that are essential for all known forms of life It also carries the genetic information of many viruses.
###
For media queries and clarifications, please contact:
DSO National Laboratories
Kenny Wong
Head, Corporate Communications
Tel: +65 9850 5224
Email: [email protected]
Agency for Science, Technology and Research (A*STAR)
Sunanthar Lu
Assistant Head, Corporate Communications
Tel: +65 9727 2170
Email: [email protected]
Robin Chan
Head, Corporate Communications
Tel: +65 9830 2610
Email: [email protected]
About DSO National Laboratories
DSO National Laboratories (DSO) is Singapore's national defence research and development organisation. It undertakes indigenous development of advanced defence and weapon systems that provide the Singapore Armed Forces (SAF) with the superior technological edge in the battlefield. While its primary focus is to support the SAF, DSO also extends its defence R&D capabilities to support homeland security.
With more than 1,500 research scientists and engineers, DSO investigates emerging technologies, matures promising ones and integrates them into innovative system concepts to meet Singapore's defence and security needs. For more information, please visit www.dso.org.sg.
About the Agency for Science, Technology and Research (A*STAR)
The Agency for Science, Technology and Research (A*STAR) is Singapore's lead public sector R&D agency, spearheading economic-oriented research to advance scientific discovery and develop innovative technology. Through open innovation, we collaborate with our partners in both the public and private sectors to benefit society.
As a Science and Technology Organisation, A*STAR bridges the gap between academia and industry. Our research creates economic growth and jobs for Singapore, and enhances lives by contributing to societal benefits such as improving outcomes in healthcare, urban living, and sustainability.
We play a key role in nurturing and developing a diversity of talent and leaders in our Agency and research entities, the wider research community and industry. A*STAR's R&D activities span biomedical sciences and physical sciences and engineering, with research entities primarily located in Biopolis and Fusionopolis. For ongoing news, visit www.a-star.edu.sg.