25 Aug 2016
Physical Science Phenomena Brought to Life Through Student-developed Exhibits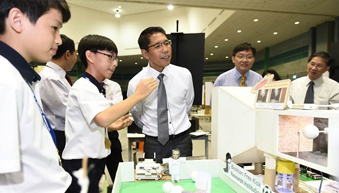 SINGAPORE, 25 August 2016 – Water bending, harvesting energy from walking, and a self-made breathalyzer were just some of the fascinating physical science phenomena on display at this year's Amazing Science-X Challenge (ASXC). An annual competition, the ASXC invites primary, secondary and tertiary level students to demonstrate their scientific prowess through the design and creation of self-explanatory and stand-alone exhibits. The competition culminated in an awards presentation ceremony this afternoon with 28 medals – 6 Gold, 10 Silver and 12 Bronze – that were given out across four categories1, honouring teams for their ability to engage and excite audiences while demonstrating a sound understanding of their chosen physical science concepts. This afternoon's ceremony was graced by Guest-of-Honour Dr. Mohamad Maliki Bin Osman, Senior Minister of State for Defence, who also presented the Gold medals to this year's top teams.

ASXC 2016 saw 162 teams across 38 schools and institutes of higher learning submitting their creations to the competition – an approximate 30% increase in comparison to last year's edition. In addition, the 28 medals given out this year also marks an increase from last year – a reflection of the outstanding quality of this year's entries, and a testament to the pool of talent that the competition attracts every year.
One of this year's Gold medal awardees for Category B, Team Effort from NUS High School, explored the concepts of magnetic fields and Eddy currents in their award-winning exhibit. James Nicholas Chan Mun Chong, a Secondary Four student from the team, said, "By building a physical exhibit, we were tasked to showcase different science concepts in ways that are creative and interesting for audiences, thus requiring us to think out of the box when learning and applying these concepts. Through ASXC, my team and I have been inspired to further explore scientific concepts in a more in-depth manner, and, if given the opportunity, we look forward to participating again and challenging ourselves to demonstrate more science principles creatively."

Ms Lim Jia Hui, a Special Recognition Award recipient, was instrumental in guiding Team Effort and the rest of the NUS High School teams. Said Ms Lim, "I am extremely proud of what my students have achieved and the independent learning that they exhibited. It was encouraging to see the teams' enthusiasm and their determination to improve on their exhibits throughout the preparation process, and I'm happy to have been able to join them on this journey of learning and discovery."

To prepare the teams for the competition, Science-X Workshops and Science-X Clinics were conducted between April and July this year, covering areas such as exhibit design, concept development and understanding of science principles. Galileo Obiettivo! from Geylang Methodist School, who secured a Gold Medal for their experiment on air flow, used the insights gained from the Science-X Clinics to improve on their exhibit. Lam Wang Hon, a Secondary One student from the team, shared, "The Science-X Clinic helped us in overcoming a significant conceptual problem in our project, and also helped us improve the overall design of our exhibit. Overall, the entire competition process has been very enriching and educational, and we look forward to using our experience to guide us in future activities and competitions."

Associate Professor Lim Tit Meng, Chief Executive of Science Centre Singapore, said, "As a custodian of creativity and innovation, SCS believes in providing an opportunity for students to express their creativity and learn about Science, Technology, Engineering and Mathematics (STEM) in a fun and engaging manner. ASXC offers a platform for students to apply the knowledge and skills they've acquired through traditional classroom learning to explain physical science phenomena in a clear and concise manner. We believe that competitions like ASXC will continue to hone the talent of our future generations as they explore their passion and interest in all things STEM, and we look forward to working with like-minded organisations like DSO and NUS to cultivate these skills."

"DSO has always been an advocate for nurturing our young talents and their passion for science and technology and ASXC, together with the rest of the DSO Amazing Series of Competitions, has provided a great way to enthuse the next generation of aspiring scientists and engineers," said Mr Cheong Chee Hoo, Chief Executive Officer, DSO National Laboratories."


About Amazing Science-X Challenge
Organised by DSO National Laboratories (DSO), National University of Singapore (NUS) Faculty of Science and Science Centre Singapore (SCS), ASXC challenges participants to build THE X-hibit with THE X-factor.

As part of the competition, teams are tasked to design and build a stand-alone exhibit that best explains a physical science phenomenon. Exhibits are designed to engage and excite, while expressing the marvels of science through captivating interactivity.

The ASXC is part of the DSO Amazing Series of Competitions, which also includes the Singapore Amazing Flying Machine Competition (SAFMC) and Singapore Amazing Machine Competition (SAMC).

For more information, please visit http://www.dsoamazingcompetitions.com.sg/asxc/home.php.

About the organisers
DSO National Laboratories
We are Singapore's one-and-only defence R&D organisation. At DSO, we transform ideas into reality to create secret-edge technologies to force multiply the Singapore Armed Forces' (SAF's) combat capabilities and render potential threats irrelevant. With more than 1,300 research scientists and engineers who work seamlessly across disciplines spanning from air, sea, land, space and cyberspace, we make a real difference with our game-changing solutions. For more information, please visit www.dso.org.sg.

National University of Singapore
A leading global university centred in Asia, the National University of Singapore (NUS) offers a global approach to education and research, with a focus on Asian perspectives and expertise. Its transformative education includes a broad-based curriculum underscored by multi-disciplinary courses and cross-faculty enrichment, as well as special programmes which allow students to realise their fullest potential. Over 30,000 students from 100 countries further enrich the community with their diverse social and cultural perspectives, making campus life vibrant and exciting. For more information, please visit www.nus.edu.sg.

Science Centre Singapore
Science Centre Singapore is a non-formal educational institution and a leading regional Science Centre. A custodian of creativity and innovation, the Centre has captured the evolution of scientific developments through unique and relevant exhibitions and shows.

The Centre houses 14 exhibition galleries with more than 1,000 exhibits, and another 30,000 sq metres of outdoor exhibition space showcasing the Waterworks exhibition, Ecogarden and Kinetic Garden. Other Science Centre Singapore attractions include the Omni-Theatre, Snow City and KidsSTOP™.

The Centre and its partners have played a pivotal role in transforming the way students and the public interact with and learn about science and technology. Together with the Omni-Theatre, KidsSTOP™ and Snow City, it has engaged and enriched close to 30 million students and visitors since 1977.

The Science Centre, Omni-Theatre and Snow City received 1.30 million visitors for FY2014/2015. For more information, please visit www.science.edu.sg.
For media queries, please contact:
Hannah Lee
Corporate Communications Executive
DSO National Laboratories
6796 8295
[email protected]