21 Apr 2017
The DSO Complex: Crucible for Innovation in Next Gen AI and Robotics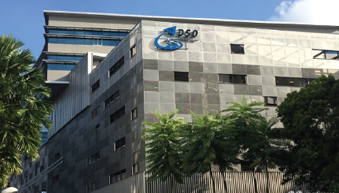 The new DSO Complex was officially opened by Minister for Defence Dr Ng Eng Hen at its new home in 12 Science Park Drive today. The eight-storey twin buildings with a total floor area of 69,000m2 houses more than 1,000 DSO employees across more than 200 offices and laboratories. DSO employees that were previously working separately in various locations will now be housed under the same roof at the new DSO Complex, allowing DSO experts of different technical domains to foster closer working relationships.

In 2013, the DSO Complex was awarded the BCA Green Mark GoldPlus Award for its environmentally-friendly efforts during building construction and operations. The new Complex is also equipped with facilities that can further the work of DSO in key research areas of robotics and artificial intelligence (AI). These facilities include the Playground – a dedicated space for DSO employees to explore new concepts through quick fabrication and testing – and the Robotics Laboratory – a one-stop shop for engineers to embark on prototyping, integration, simulation and testing of robotic systems prior to field trials.

In his opening address, Dr Ng acknowledged the importance of DSO National Laboratories' role in the defence landscape, especially in building the Next Gen Singapore Armed Forces (SAF). He said, "Today, DSO has over 1,500 engineers and scientists who have developed a spectrum of technological capabilities to meet our defence and security needs… But the most important point and achievement is this, DSO's capabilities did not just stay in your minds or in your laboratories, they were translated and harnessed into key initiatives that helped build the 3G SAF today and the Next Gen SAF."

On DSO's work in Artificial Intelligence (AI) and robotics, Dr Ng noted, "As you have done before, DSO must now help us better prepare for challenges ahead. You started your efforts in AI and robotics since the 1990s, and you have seen the fruition in some of those pieces of work in our unmanned platforms for land, sea and air, and more pervasively, sophisticated combat systems were built for our platforms. These systems give us greater computing abilities to help us make better and faster decisions for our commanders and soldiers to perform their tasks."

Dr Ng was also given a tour of the Playground and the Robotics Laboratory, where he witnessed a live capability demonstration of an unmanned air-to-ground teaming of the Unmanned Aerial Vehicle and Unmanned Ground Vehicle, capabilities that will translate into future SAF operations.


###
MEDIA CONTACTS
Name

Mr Kenny Wong

Head

Corporate Communications

Ms May Lian

Senior Executive

Corporate Communications

Contact
6450 4163 / 9850 5224
6450 4167 / 9005 8237
Email

[email protected]

[email protected]
About DSO National Laboratories
DSO National Laboratories (DSO) is Singapore's largest defence research and development organisation. It undertakes indigenous development of advanced defence and weapon systems that provide the Singapore Armed Forces (SAF) with the superior technological edge in the battlefield.

While its primary focus is to support the SAF, DSO also extends its defence R&D capabilities to support homeland security. With more than 1,400 research scientists and engineers, DSO researches on emerging technologies, matures promising ones and integrates them into innovative system concepts to meet Singapore's defence and security needs.

For more information, please visit www.dso.org.sg